I've been working on a fair way to give all of my students a chance to answer questions in my classroom. At the moment I ahve two kinds of students. Type 1: Knows all the answers all the time & gets mad when they are not picked ALL the time. Type 2 doesn't know the answers most of the time and just sits back and waits for type 1 to shout it out when they get frustrated during my "wait time". So I decided to implement a tool I used to use when I taught Gen Ed 1st grade. The "Answer Jar", that's what we've been calling it in my room.
It works great. Each student has a stick with their name on it. When I ask a question, I just pull a stick out & that student answers the question. If they can't answer their name goes back in the jar or they can ask another student for help. My students love it, so far. Type 1 knows they will get 1 turn to answer a questions & type 2 knows they will be asked and are more attentive.
(BTW, I don't use the jar for all my questions, just predictable ones, that we go through everyday. An example would be, what month is it?, What day is it today? Yesterday? Tomorrow? etc...)
My only problem is that I currently have 4 groups I am using the "Answer Jar" with & I am having trouble storing all my popsicle sticks. At the moment I am keeping them rubber band together on my desk.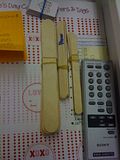 Which is really bugging me because I like to keep my desk clean & orderly.
My classes are 1 hour long and so I switch them out that frequently. I thought of a hanging Zip-lock bag staples to my wall, but I am not sure if that will be durable enough. I also want to keep them separated by class, so they are easy to grab & switch out. I am thinking I need something with at least 4 pockets.
So before I go to the store & spent some cash I wanted to know if you had any ideas on where or in what I could store all my little name sticks. Any ideas?
Ms. M