One of the MANY blogs I follow is
eighting25
. These ladies have some GREAT ideas, printables, & decor. If you have not checked them out, you should take a minute to do so.
My favorite item of theirs is their holiday Subway art.
I like using these both at home & at work. For their Christmas Subway art, I just printed it up and posted it outside my door. It felt like it was missing something. However, I did not dare put it in a frame because I was afraid that it would fall, the glass & frame would shatter and some student would get hurt.
So for my Valentines subway art I framed it with some CTP bulletin-board boarder. While I LOVE this boarder, I was wondering if I over did it, or if it looks a bit cheesy?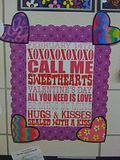 Please tell me what you think. Do you have any suggestions on how I can improve it? How would you do it differently?
Ms. M