Here is a visual monthly planner that helps me keep track of all my meeting and special events. This summer a purchaed a new calendar chart but it was too big for me. So I bought a smaller one and turned the large one into a kind of desk caendar. I laminated the chart and use overhead markers to write on it.
I color code, dates (numbers) in black, meetings in blue, special events in green and plan days & days off in red. I put it up on a bulletin board I use to keep track of my important papers.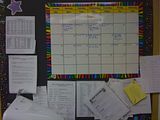 I've seen other teachers who use charts like this to display homework for their students. Sorry I don't have a visual. They use the Sunday boxes to post the subject. Then wright in assignments in the days of the week.