This year I am having my Kindergarten student make a wreath for the classroom teachers. Here's how it all began.
First, I made copies of holiday ornaments. (I used the holiday ornament cutout from Creative Teaching Press. However, you can use any shape of ornament design you want.) I had my student color & cut out 2. Why 2? That way I get to pick the best one.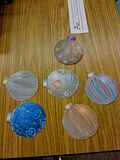 Next, came my part. At the start of the school year I take all my students pictures and print several copies on tag paper for various activities. I keep several copies on hand for different kinds of craft activities. So I cut them out in a circle, about the same size as the ornaments.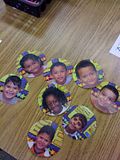 Then I get a paper plate and cut a circle.
This is the tricky part. You have to lay out the ornaments and pctures out on the plate and get everything just right before you glue anything down. I glue down the ornaments first then the students pictures on top.
Finally, I punch a hole into the paper plate an string some ribbon through, so it can be hung. I decorate it further with glitter, bows or ribbon but you could actually just leave it as is.
I wrap it in front of my students and we then deliver them to their classroom teachers. They love having something to give that they had a part in making.
What do you think? What could I do to make it better? Do you like it or not?