A few posts ago I posted about a holiday wreath. In addition to the wreaths I had my students also make a holiday garland. Pretty easy to make.
You'll need string, student pictures, a round template (I used a paper ornament) and colored / scrapbook paper.
First, you have the students color & cut your circles/ornaments.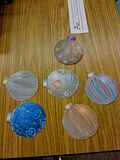 Second, you'll need to cut you your students pictures in a circle. Make sure your students pictures are smaller than your ornaments.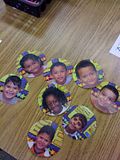 Next, get some cute paper. You'll want two different colors/ kinds. You can Write messages or just add some cute clipart. Then cut those into circles also. Glue your students pictures to the students ornaments. Then glue your messages & clipart to your colored paper. Punch 2 holes at the top of each circle/ ornaments. Sorry I don't have a picture of this.
Last, string your ornaments/ circles on your string and tie a knot at each end.
Here are 2 examples.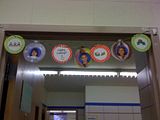 I separated these by classroom and had my students give them to their homeroom teachers as a holiday gift.
What do you think??? Sorry the pictures are so large. I am having trouble with Photobucket. I'm working on it.