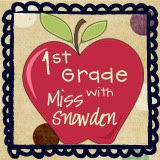 Mrs. Snowden at
First grade with Mrs. Snowden
is having a technology linky party and I decided to link up. Today I want to talk about one of my favorite
re
discovered websites.
I'm going to be honest here
the last time I went to PBS Kids was years ago & I did not have a good experience. However, as I was planning last week for this weeks lessons I was looking for a Between the Lions video/ clip & popped over there. WOW, how it has changed. It is so much more user & kids friendly!
We now have 5 possible areas to go to. Each area has several possible options to choose from & each option has several videos to pick from. Tons of possibilities.
Here is a shot of the main page.
The
games section
has 20 games you can play. I am looking forward to playing some of these with my Mobi tablet. Right off the bat I can tell you I will love Alphabet Watermelon, & Theo's Puzzles for my Kinder kids.
The
stories section
has 11 categories of stories you can pick from, ie: folktales/ fairy tales, animals, feeling, art & music, etc... Each category has several videos to choose from. I found Yo! Yes? which I use to teach punctuation in my class. I will definitely be playing that one.
My
favorite section
so far is the page with those wonderful
video clips
from the show that teach Language Arts skills so well. The most popular, I am sure, is the Vowels go walking clip, but there are SOOOOOO many more to chose from!
I LOVE Mister Rogers Neighborhood. Mister Rogers is so sweet, how can you not like him? I immediately went to the
videos
& found one I am going to show today! It is a clip with Mister Rogers & Eric Carle. We have been reading Eric Carle books throughout the year & I would love for my students to watch him & listen to him read one of his books.
I am very excited about my latest find. I hope you find it as helpful as I do.