I'm going to interrupt your regularly scheduled...
because my plan this week are ummm, well not worth posting really. We have two kid days and one teacher day and I can tell you that on Tuesday we are watching and discussing Charlie Browns Thanksgiving and Mayflower Voyage.
However, I did want to share that I did mange to finally clean up, edit and post my personal lesson plans for purchase over on my sister blog,
A Teacher's Plan
. I know several of you have requested them, both Kinder and First grade but I only managed to get my First Grade plans up. I promise to work on my Kinder plans this long weekend. Cause you know I will NOT be going out on Black Friday, or Saturday and Sunday. I just can't take the crowds. I prefer online shopping. Soooooo, here you go.
This template is a one page week at a glace format. It includes areas for whole group instruction and independent practice, ie guided reading. It covers whole group and guided reading, writing and language arts. On the left hand side you will find a box for the weekly objectives, evaluations, ELL/ ESL strategies and a spot to jot down your small groups. The font used in this template is a clean and simple template called
LD Elementary
.
Want a closer look? Click on the images below.
Want it? Click on the button below.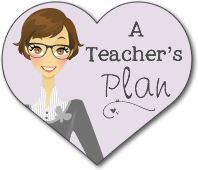 Now I will leave you so that I can give my tenure class my full attention. I am a terrible student. You know how doctors make the worst patients, well I feel most teachers make terrible students. :P