Oh, and...
Happy Birthday to my blog too!
That is right, when I started this journey 4 years ago I wrote and published my very first post on my birthday. I think I did it so that I would remember the day I started it. Ha ha, I have many silly quirks. If you are a regular reader no doubt you have picked up on a few.
On day 1 I'd like to share one of Greg's newest creations.
They are a blast for the kids.
Ok, so I have written about Greg before, but just in case you don't know him, as he would say...
Why not?
They are cute freebies that can easily become an independent work, workstation, or center in your classroom.
Today Greg has generously offered to share his Pumpkin Smash packs with one of my readers. Here is a look at them.
Beginning Sounds Smash
Sight Word Smash
Numbers and Counting Smash
To enter...
This entry won't last long so don't dawdle.
Make sure you show Greg some love on his blog too.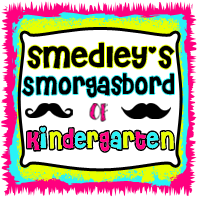 Oh and don't forget to come back tomorrow, for day 2 of my week long birthday bash.
Happy Monday.